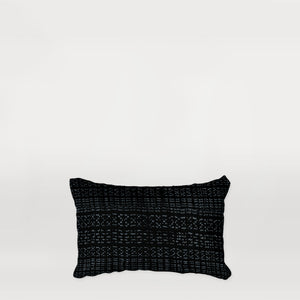 Accessories
txt.30 Lumbar Rebozo Pillow
Made to order / Delivery time 4 - 6 weeks. 
Rebozo is considered one of the most iconic Mexican craft. The Rebozo is originally a dress garment worn by Mexican women for more than 300 years. Historically in the XX Century, the Rebozo was banned by Modernity ––relegating it being pushed by progress–– towards the rural areas and the most marginalized social classes.
Today, Rebozo barely stands and although woven in different areas of M
é
xico such as San Luis Potosí, Oaxaca and, Tlaxcala, it is believed an original creole technique from Tenancingo in the State of M
é
xico. Today, masters are disappearing and slowly, Rebozo workshops are closing down due to the lack of interest of the younger generations. We desire that the Rebozo Pillows will help us to create more awareness within our community, to help us preserve another endangered technique while sophisticating the contemporary interiors.
50 x 30 cm  /  20 x 12 inches.
100% Woven in cotton.
Made in México.

*ALL OUR PRICES ARE IN MXN PESOS AND INCLUDE TAX
$ 2,300.00 MXN