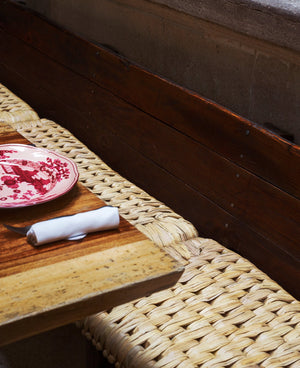 Tule Collection
txt.15 Tule Paillase
Made to order / Delivery time 4 - 6 weeks. 
An original txt.ure development, the txt.15 functions as a Mexican tatami or paillasse. Dressing up benches or windowsills, the txt.15 functions as an elegant and sturdy topping.
Developed in conjunction with designers and artisans, our tule paillasse will add distinction to any surface, and is sun-resistant for outdoor and pool areas.
Heavy and sturdy, the paillase is flexible enough for long hours sitting.
This is a modular piece that can be re-defined based on our clients needs.
Tule is a sun resistant material, it can be perfect for pool areas as sun beds.
* Sun resistant.
* Do not wet / Do not wrap in plastic. 
* In case of water exposure dry completely under the sun.
120 (L) x 50 (B) x 7 (H) cm. 
 

/  
47 (L) x 20 (B) x 2 3/4 inches.
100 % Hand woven in Tule natural fiber.
Made in Mexico.

*ALL OUR PRICES ARE IN MXN PESOS AND INCLUDE TAX
$ 13,000.00 MXN