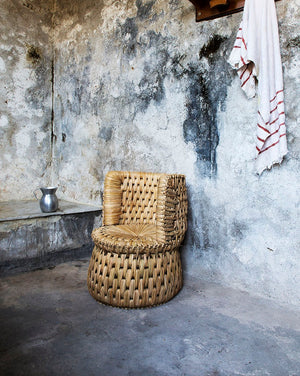 Tule Collection
txt.03 Individual Armchair with High Backrest
Made to order / Delivery time 4 - 6 weeks. 


The txt.03 revisits and updates a Mexican folk classic, the equipal chair.
Built from woven tule fiber on a wood base, the elegant proportions
of txt.03 also provide longer-lasting support and comfort.
The knotted architecture confers a powerful presence, developed by
txt.ure and master weaver Don Nacho Morales. 
With the txt.03, txt.ure has further developed the quality of the
manufacturing process, creating a signature piece of the Tule Collection.
Also available as txt.08, with low backrest.
Product Care 

* Sun resistant.
* Do not wet / Do not wrap in plastic. 
* In case of water exposure dry completely under the sun.
Ø 64 x 77 cm. 
 

/  
Ø 25 x 32 inches.
95 % Hand woven in Tule natural fiber, 5% wood.
Made in Mexico.

*ALL OUR PRICES ARE IN MXN PESOS AND INCLUDE TAX
$ 19,500.00 MXN