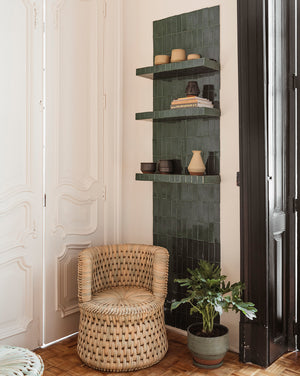 Tule Collection
txt.08 Individual Armchair with Low Backrest
Made to order / Delivery time 4 - 6 weeks. 
The txt.08 revisits a Mexican folk classic, the Equipal chair. It is built from
a 95% woven seagrass (Tule) natural fiber and a 5 % wood which provides
longer support for the back rest.

Its knotted architecture confers a powerful aesthetic that captivates the eye.
The txt.08 is an original popular design, interpreted masterfully by our partner,
 Don Nacho Morales.
 txt.ure has only elevated the quality of the manufacturing process converting it as a signature piece of the Tule collection.  
Product Care 

* Sun resistant.
* Do not wet / Do not wrap in plastic. 
* In case of water exposure dry completely under the sun.
Ø 64 x 67 cm. 
 

/  
Ø 25 x 26 inches.
95 % Hand woven in Tule natural fiber, 5% wood.
Made in Mexico.

*ALL OUR PRICES ARE IN MXN PESOS AND INCLUDE TAX
$ 16,800.00 MXN