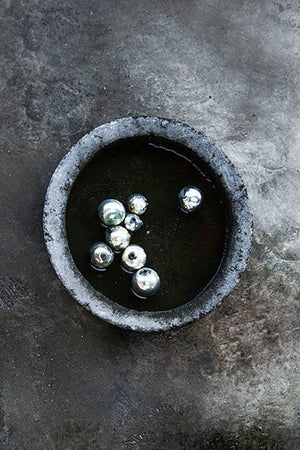 Accessories
txt.19 Water Fountain
Made to order / 
Delivery time 4 - 5 weeks.
 "Silence. In the gardens and homes designed by me, I have always endeavored to allow for the interior placid murmur of silence, and in my fountains, silence sings". 
-Luis Barragán Pritzker Price acceptance speech
This water fountain is inspired by the presence of this medium sized objects inside old Mexican gardens, as the ones Arq. Luis Barragán designed for his famous gardens in Tacubaya, Mexico City. 

This Basalt Stone ubiquitous object, is the perfect accent for any outdoor terrace or garden. Large water recipients evoke nature and calmness, making you feel in contact with nature through its dense materiality and the presence of water in our most sacred private spaces. 
Ø 50 x 15 cm. 
 

/  
Ø 20 x 6 inches.
100 % Hand made in volcanic stone.
Made in Mexico.

*ALL OUR PRICES ARE IN MXN PESOS AND INCLUDE TAX
$ 7,800.00 MXN