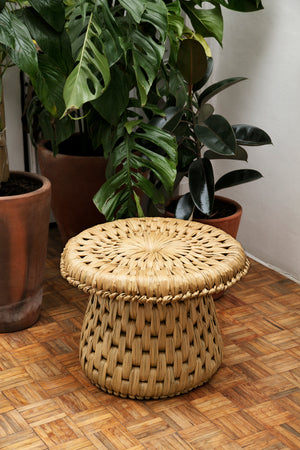 Tule Collection
txt.14 Coffee Table
Made to order / Delivery time 4 - 6 weeks. 
Tule pieces are truly architectonic pieces. this is the traditional solution for the table typology, offered by the weaving technique and centuries of tradition. txt.ure has only iterated proportions to make it more consistent in tis shape.
The weaving technique allows for a wider surface, which turns a simple tabouret into a more defined side table. Its surface is only 10 cm + in diameter than our regular txt01 tabouret or composed side table by the txt01 + txt10. 
Due to its slight irregular surface we recommend accessorizing it with our basalt stone coasters set for more stability.
Product Care 

* Sun resistant.
* Do not wet / Do not wrap in plastic. 
* In case of water exposure dry completely under the sun.
Ø 60 x 45 cm. 
 

/  
Ø 25 x 18 inches.
100 % Hand woven in Tule natural fiber.
Made in Mexico.

*ALL OUR PRICES ARE IN MXN PESOS AND INCLUDE TAX
$ 17,700.00 MXN