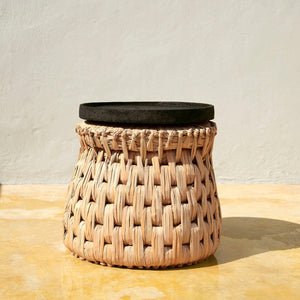 Tule Collection
txt.12 Side Table set
Made to order / Delivery time 4 - 6 weeks. 


We are always experimenting to deliver sleek contemporary design for our knowledgable users.
The txt.12 is a variation of the txt01 + txt10 combo. This set is sold uniquely together, as a special edition of our signature piece.
This perfect side table comes in a deep red that has taken almost a year of testing to achieve this strong & iconic result. Master Artisan Don Isabel Meza, is the co-author of this proud achievement of ours!
Ideal for adding warmth accents through material qualities. Use the txt12 as a subtle –or strong– statement piece. Accessorize and warm up every space of the contemporary settings!
Product Care 

* Sun resistant.
* Do not wet / Do not wrap in plastic. 
* In case of water exposure dry completely under the sun.
Ø 46 x 45 cm. 
 

/  
Ø 18 x 18 inches.
100 % Hand woven in Tule natural fiber dyed in red.
Made in Mexico.

*ALL OUR PRICES ARE IN MXN PESOS AND INCLUDE TAX
$ 16,000.00 MXN