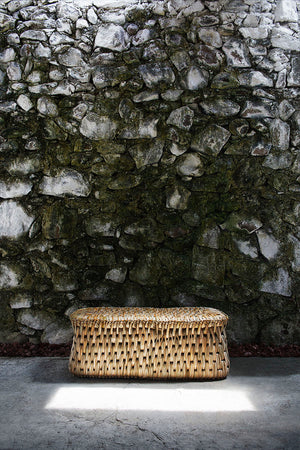 Tule Collection
txt.05 Bench
Made to order / Delivery time 4 - 6 weeks. 


The txt.05 elongates the proportions and scale possible within icpalli (seats)
weaving, and is woven when the reeds are still green and moist, with a
traditional knotting technique to create a solid structure made entirely of tule,
supported by a wooden structure.
Ideal for narrow transit spaces, or as a bench, the txt05 also warms up the foot
of a bed, with a pleasing weight and solidity. 
Product Care 

* Sun resistant.
* Do not wet / Do not wrap in plastic. 
* In case of water exposure dry completely under the sun. 
120 (L) x 47 (B) x 42 (H) cm. 
 

/  47
 (L) x 19 (B) x 16 (H) inches.
100 % Hand woven in Tule natural fiber, wooden frame.
Made in Mexico.

*ALL OUR PRICES ARE IN MXN PESOS AND INCLUDE TAX
$ 25,800.00 MXN