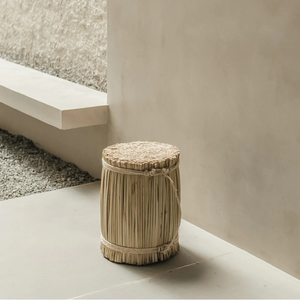 Tule Collection
txt.16 Chimpestle Stool
Made to order / Delivery time 3 - 4 weeks. 


Popularly known as chimpestles, the
txt.16
draws on the ingenuity of
pre-Hispanic seating solutions.
Made of bounded tule, the pieces are customizable in size and length,
with a traditional carrying handle.
They function as low seating for indoors and outdoors, as well as
decorative objects.
* Sun resistant.
* Do not wet / Do not wrap in plastic.
* In case of water exposure dry completly under the sun.
45 (L) x 35 (B) x 35 (H) cm. 
 

/ 
18 (L) x 14 (B) x 14 (H) inches.
100 % Tule natural fiber.
Made in Mexico.

*ALL OUR PRICES ARE IN MXN PESOS AND INCLUDE TAX
$ 3,200.00 MXN