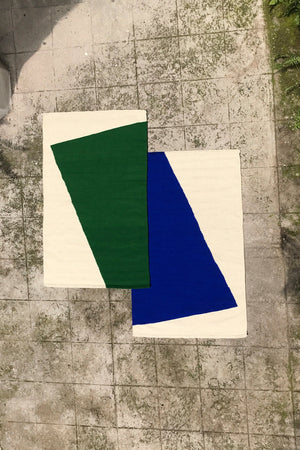 Area Rugs
Natural Área Rugs
Made to order / Delivery time 8 - 10 weeks. 
Área Rugs are our bet for the Hospitality Industry. They allow volume and an intensive use plus, a low maintenance make them a neutral and timeless piece.
Symbolically an Área Rugs confer status. Typically, it is one of the household items that take more investment in the interior's world. We think they don't need to be inaccessible.
That is why, the idea behind this design proposition is that Area Rugs have an amazing benchmark for their price, their quality and their size.
The Graphic Design is made in collaboration with designer Emilio Pérez with whom we are simulating one rug on top of the other. If one area rug confer status, let's play with the trompe-l'œil of having 2 rugs!


Accidents do happen and if you experience a serious spillage, please call our showroom for recommended cleaners.
* Vacuum once a week 
* If contact with liquids should happen - treat spillages and stains by mopping up the area and using a solution of soft soap in warm water if required. 
*
Rotate the rug twice a year - This will also help the rig to fade evenly. Time does inflict changes on the rug! But it makes them more beautiful...
* Professional rug cleaning only
* No dry cleaning

*ALL OUR PRICES ARE IN MXN PESOS AND INCLUDE TAX
$ 6,500.00 MXN